Happy Friday, lovelies! I hope this week has been extra good to you all. Despite ranting
here
a couple of days ago about how it seemed that everyone was in such a piss poor mood, I managed to get over it all and have a great week.
Even though I don't know if I will ever move on from getting the finger.
But now I'm even happier because we've landed on my favourite day of the week.
I'm feeling a little tired this morning, and even after upgrading from my normal medium coffee to a large one, I'm still waiting any minute now for someone to catch me sleeping at my desk. It's times like this that I really wish I was allowed to shut my office door. I just realized that's probably why that rule was put into place.
I ended up going out last night and had a blast. I bet you're all picturing me dancing and drinking and partying until the wee hours of the morning, then strolling home just long enough to change my clothes so no one at work could prove that I went out. But that would be totally wrong. I'm closer to thirty now people, I'm not a trooper like I used to be. I can barely do that now on a weekend, let alone on a school night.
And that brings me to my five favourite things from this week.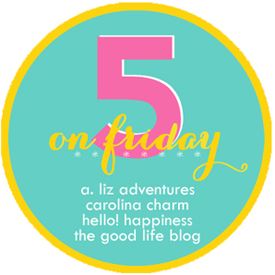 ONE//
So, my "wild" night consisted of going to Yuk Yuk's, a comedy club here in the city. When you're normally in bed by 9:30 or 10:00 each night, losing those two extra hours of sleep certainly makes a difference.
I'm ridiculous, I know.
Have you ever heard of the Canadian TV show, Cash Cab? Actually, I think it may be a world wide show with just a different host for each country. Anywho, it's a game show where a taxi cab picks up people who think they're just in a regular taxi, only to discover that they can win money by answering trivia questions correctly until they get to their final destination. Well myself and Todd have been fans of that show for a couple of years, even though after every episode I always get reminded that I'm not "everyday" smart and Todd's head gets bigger as he keeps referring to himself as a genius. The point of all of that, though, was that the host of the show, Adam Growe, came to Yuk Yuk's last night and mixed in some trivia questions with a comedy act, and I seriously have never laughed so hard in all of my entire laugh. In fact, I woke up this morning wondering why my face was so tender, only to realize it was from the cheek workout I had last night. Such a great night!
TWO//
I haven't been much of a TV watcher in the last year or two (mostly because I don't have any particular shows that I'm into, although I've heard that Breaking Bad should be my newest addiction), but whatever happened this week, I had no desire to do anything else but be glued to the TV. I finished watching the fourth season of the vampire diaries (hashtag don't judge, hashtag guilty pleasure, hashtag best season yet) and the movie the Heat, which was super funny.
THREE//
The ever so sweet
Jenn
nominated me for a Liebster award and, if I'm being honest, it definitely made me blush
a lot
a little.
FOUR//
I mentioned during
my rant
how I believe that a small gesture can instantly brighten someones day, and here's just another reason to confirm how true that is.
After I received this text from my friend, I was flying high for the rest of the week.
FIVE//
And just as I was sitting here, wracking my brain to come up with numero five, this happened.
HE LOVES MY
NEW BOOTS
!! THE CASH CAB HOST LOVES MY NEW BOTS!!! I can't stop smiling and laughing right now (here comes another cheek workout), because he obviously happened to see this little space of mine in order to know I have new boots. That seriously just made my day, and probably all of next week too. And now I'm changing the original title of this post,
A Well Needed Pick Me Up,
to
Best Tweet Ever.
Happy Friday!