Ohhhh Friday, we meet again!
Despite having to work the Thanksgiving holiday and not having a short work week, this week just flew by. I seriously can't believe it's Friday, and guess what? I don't mind it at all!

Here are some things that stood out to me this week: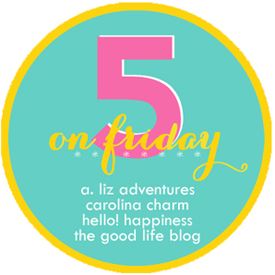 ONE//
Have you ever bought a piece of clothing and then happen to see the exact same thing you picked out featured somewhere after? Now I'm sure there are a lot of people out there that would cringe at this because they want their style to be different and unique, but not me. I love knowing that I'm not going too far off the fashion beaten path, because I can guarantee you that it wouldn't be very pretty if I happened to stray.
Remember that sweater I bought from Old Navy about a month ago?

Well a couple of days ago Todd was reading flipping through my People Style Watch Magazine (yeah, so there's a pretty good chance that I'm going to be single after he reads that) and he pointed this out to me:
Then a couple of days ago I finally broke out this sweater that I had bought at Banana Republic when we went to Halifax at the end of summer (there was a 40% off sale and I immediately flocked to this sweater).
And guess who happens to have the same sweater? The very fashionable
Veronika
posted this outfit Wednesday night:
TWO//
I finally got my lip waxed a few days ago because it desperately needed to be done. You know it's time when you happen to look down at your lips while you're eating and all you can see is hair staring back at you. And Todd wasn't afraid to tell me that my mustache looked worse than his (thanks for that, by the way).
It was funny, though, because I went into my appointment and the lady who I had never had before started brushing out my eyebrows. I said, "nope, it's just the lip" and she looked at me and said, "oh they need to be done". And before I knew it she was trimming my eyebrows. So, apparently I needed my eyebrows done too (thankfully for no charge).

THREE//
We booked our flights to go to Toronto in December so we can spend Christmas with my family. My sister is having baby number two and there was no way that I was missing that. We usually celebrate Christmas back home here in Newfoundland but I'm really looking forward to doing something different this year. And plus I am just too freaking excited to meet my new nephew or niece!
FOUR//
I signed up for the
Bigs/Littles Network
and I wanted to introduce you to my big partner,
Jessica
. You need to check out her photos like right now.

FIVE//
Wednesday was mine and Todd's anniversary and since I didn't have any clue what I could get him, I figured I would buy a bunch of his favourite things. After finding the idea on pinterest (surprise), I decided to put the items in a beer box and he loved it, and it also made me feel a little creative, which doesn't happen too often.
Todd always steals (and then loses) my nail clippers and lip glosses so you could be sure those two items were being added.
Before I go, I wanted to share this video with you that I saw on YouTube this week that really struck me. It might help if you're looking for some extra motivation over the weekend, for whatever reason it is that you may need it for.
Hope everyone has a wonderful weekend!